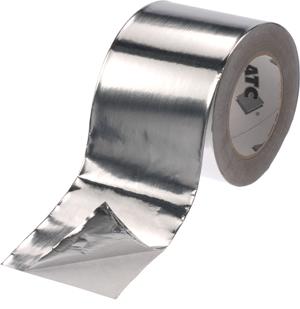 Pure aluminum sheet, covered on one side with acrylic adhesive.
Aplicación:
Used on ductwork to provide an airtight seal, a sure and long lasting barrier to moisture-proof seal proof against influences of the weather.
The surface must be clean and free of dust, moisture or other external contamination for maximum effect.
It has excellent shear strength particularly at high temperature.
Material:
Aluminium foil with adhesive layer on one side.
Thickness 30 .µm.
Length 45 meters.
Use Temp.de -40 ° C> + 120 ° C.
Temp. min. Mounting -10 ° C.
Composición:
3 layers: 45 m aluminum foil, acrylic adhesive layer resistant to UV rays and protective sheath of white paper.
It can be cut by hand.
Total thickness: 76 microns.
Total weight: 138 g / m2.
Aluminum Weight: 108 g / m2.
Adhesive Weight: 30 g / m2.
Elongation at break 8%.
Resistant temperature range of -20 to 120.
Application temperature: from -10 to 40.
Adhesive type: UV-resistant acrylic.
Tack rolling (ball 11 mm): 10 cm.
Resistant to stress 57.5 N / 25 mm.
Color: silver aluminum.
Available in 50, 75 or 100 mm wide.
Texto para oferta:
The duct connection is sealed by a foil tape UV-resistant pure aluminum, coated on one side with acrylic adhesive pressure. Permanent service temperature between -20 ° C and + 120 ° C.
ATC type Alutape 30.